Left to Right:  Mike Kitelinger (WWTP Operator), Kate Sharpe (Billing Administrator),
Senator Tammy Baldwin and Barry Sorenson (Waterloo Utilities Superintendent)
On February 25, 2022, Senator Tammy Baldwin visited the City of Waterloo's Wastewater Treatment Plant. The facility is currently in the design phase of an extensive upgrade project funded by USDA Rural Development and designed by Town & Country Engineering. As the Chair of the Senate Appropriations Subcommittee on Agriculture, Rural Development, Food and Drug Administration, and Related Agencies, Senator Baldwin directly impacts the funding allocated to USDA Rural Development. The project, which includes $4 million of grant and $17 million of low interest loans, will be used to update aging equipment and create the capability to meet new, more stringent phosphorus effluent limits.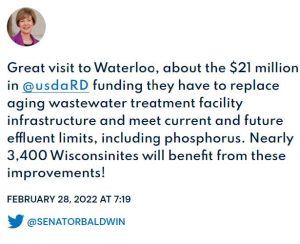 Senator Baldwin's visit included a tour of the treatment plant by Town & Country Engineering Vice-President Ben Heidemann, followed by a 30 minute roundtable about the project and community needs. Also present at the event were representatives from USDA Rural Development and Waterloo Utilities.

Town & Country Engineering's Lisa Twarog, Amy Bares and Ben Heidemann
on-site with Senator Tammy Baldwin